How does the Apple Watch determine if you are moving your arm? You can use the accelerometer on the Apple Watch to identify your movements. 
Arm movement should be equivalent to walking. Your arms may not be moving when you are sitting and you may still be awarded credit for your movement. 
Here is a related article that might intrest you on How to Charge Apple Watch Without Its Dedicated Charger?
However, if your arms are not moving, your Apple Watch may not accurately count your steps. Here are a few ways to improve the accuracy of your Apple Watch.
How To Improve The Accuracy Of My Apple Watch?
Your Apple Watch is ready to log activity the minute it's unpacked. However, if you're frustrated by inaccurate activity tracking, you can improve the accuracy by performing a simple calibration. 
Calibration is crucial if you want to get the most accurate results from your Apple Watch. It will also help you improve its performance if you're using it to track your steps. Here are some quick fixes you can try:
First, if the device doesn't track your workouts correctly, try resetting the watch's fitness calibration data. By doing this, you can eliminate hidden errors that can impact your workout tracking. You can do this in the Watch app on your iPhone. 
If you're not satisfied with the results, you can contact Apple Support to fix the issue. Once you've updated watchOS, you should be able to use the Apple Watch for tracking your workouts correctly.
To improve step count accuracy, try wearing the Apple Watch so that the device can detect your arm movements. The Watch needs to fit snugly on your wrist. It shouldn't slide around. 
Step length is an important metric for accurate step counting because it depends on personal data. A taller or heavier person will have longer strides than someone smaller or heavier. To improve the accuracy of your Apple watch, update your health data using the Health app.
Can I Shake My Apple Watch For Steps?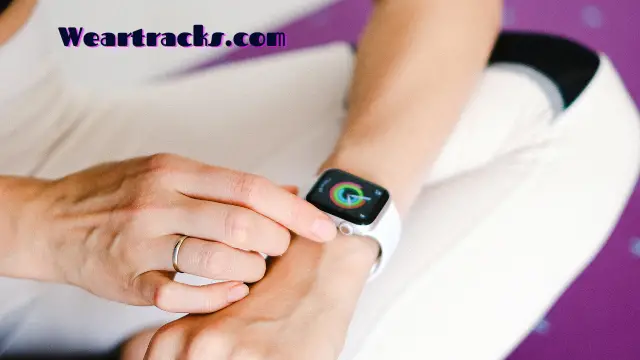 The accelerometer in your Apple Watch tracks your movements. It recognizes your movement when you swing your wrist. The accelerometer gives the Apple Watch information about your pace and steps taken. 
However, you cannot shake your Apple Watch for steps if your arms aren't moving. The watch will still count your steps, though. You must be active to calibrate it. You need to walk or run at a normal pace for it to accurately track your steps.
The accelerometer and GPS tracker in your Apple Watch use the wrist movement to determine your steps. If you shake your wrist or swing your arm, it will register as a movement and count your steps. If you do not move your arms or wrist, your Apple Watch will not record your steps.
Instead, the app will record your distance and calories based on your speed and acceleration. Make sure you have turned on the Motion Calibration & Distance setting in your System Services.
For accurate step counting, it is necessary to have your arm movement consistent and natural. The Apple Watch's accelerometer identifies movement by shaking the wrist, which is equivalent to changing from seated to standing. 
However, if you are seated and your arms are not moving, the watch may still register the movement and award you steps. The iPhone health app uses this method to count steps.
How Does Apple Watch Determine Steps?
If you've never noticed it before, the Apple Watch uses an accelerometer and a GPS tracker to count your steps. It counts your steps when you swing your arms like you're walking. If your arms aren't moving, though, the device won't record your steps. 
To make sure your Apple Watch is counting your steps correctly, calibrate it. To do this, follow the directions below:
The steps you take with your Apple Watch will not be as accurate as if your arms were actively moving. That's because the Apple Watch uses a motion sensor to count your steps. 
When your arms are not moving, this sensor cannot detect movement, resulting in an inaccurate measurement. While your Apple Watch can detect your movement, it won't always be accurate. So make sure you're moving your arms while wearing the device to get the most accurate measurements.
Another way to use the Apple Watch is to place it in a pocket or purse. This way, the Apple Watch can track your steps even while your arms are still in a pocket. 
This way, the Apple Watch doesn't need to be in your bag or pocket to count your steps. If your arm is not moving, you should try wearing your Apple Watch on your ankle instead. Moreover, you should calibrate it first before using it.
Will Apple Watch Count Steps on Ankle?
One of the most common questions asked by users is "Will Apple Watch count steps on an ankle?" The answer is a resounding yes. The device counts steps when worn on the wrist, and it can even be placed on an ankle if the user is restless leg syndrome. 
It will only count steps when the user is moving their arms, and will not count the steps while they are sitting.
The Apple Watch estimates steps based on its accelerometer and GPS tracker, which tracks your daily activities. 
Therefore, if your arms aren't moving, the device may still count your steps. However, you must calibrate the device's estimations to ensure the accurate number of steps.
Otherwise, the Apple Watch will report incorrect steps. Fortunately, there are many ways to calibrate the Apple Watch for your activity.
The Apple Watch works on any part of your body as long as it fits properly and doesn't interfere with your skin's surface. The ideal position for wearing the Apple Watch is on the top of the wrist, but it will also work on your ankle if you don't want to wear it on your wrist.
The accelerometer, as well as the heart rate sensor, is used to count the steps. But, in order for it to work properly, the watch must be in contact with your skin in order to register the steps.
Will The Apple Watch Count Steps If In A Pocket?
You may have been wondering: Will the Apple Watch count steps when it's in your pocket? It can count steps if it's attached to your wrist, but the accuracy might not be as high as when it's worn on your wrist. 
This is due to the GPS sensor that the Apple Watch uses to determine when you move. If your arm isn't moving, you probably aren't moving enough for the device to recognize your movement.
To start tracking your steps, go to your Apple Watch's settings. While auto mode tracks sleep automatically, manual mode requires user input. To sleep, press "Start Sleeping" and "Stop Sleeping" to initiate the process. 
Other possible reasons why your Apple Watch may not count steps while in a pocket are the sensors or the settings. Generally, the two most common issues are the batteries and the sensors. If these are the cause, you can try a different Apple Watch.
Conclusion:
If you want to monitor your steps, you can also use the Apple Watch's heart rate sensor. The Apple Watch will detect your heart rate and movement data and suggest an appropriate Move target for the week. You can ignore this suggestion or adjust your target as necessary. 
But if you want to get more steps, you'll have to exercise more. And, if you're in a hurry, you may not want to wear the Apple Watch all day.
For more details on this subject, please check out this post that I published recently Are Apple Watch Face Apps Safe To Use?